Charism and Mission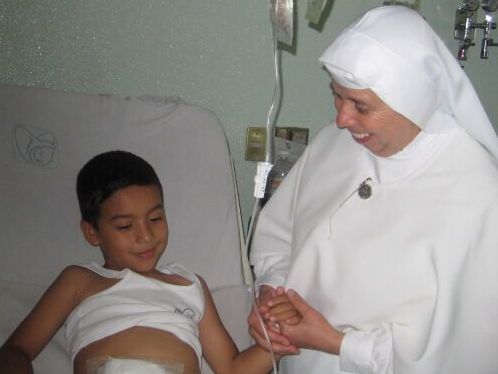 Our charism as Servants of Mary is the gift granted by the Holy Spirit to Saint María Soledad and in her to all her daughters for the purpose of participating in the salvific mission entrusted by Christ to His Church: "Cure those who are sick, and say, the kingdom of God is very near to you" (Lk 10, 9). We fulfill this mission at the bedside of the sick, caring for them diligently and gratuitously, preferably in their own homes. This charismatic grace is reflected in the spirituality handed down to us by our Holy Mother Foundress:
• Contemplative in action
• Abandoned to Providence
• Collaborator with Christ and Mary in the salvation of mankind
Faithful to the charism we have received with our vocation of Servants of Mary, we shall constantly exemplify in our lives all that the motto of our Institute asks of us: "I was sick and you visited me" (Mt. 25, 36). As a religious family, we continue the healing mission of Christ, having the Virgin Mary at the Visitation as our model (Lk 1, 39-45) as we bear renewed hope and joy to those we serve. From the beginning of our foundation, we have responded to the mission of love and service to the sick that the Church has entrusted to us, curing the suffering members of Christ and thus collaborating in his salvific mission. Mother Soledad's vision continues today through the presence of the Servants of Mary throughout the world on 4 continents: Europe,America, Africa and Asia; in 22 countries and 122 convents, including missions in Mexico, Cameroon, Bolivia, Philippines and Haiti. Faithful to the Magisterium of the Church, we pursue the foundational spirit that guided our Holy Mother Foundress in the exercise of the charitable mission of caring for the sick, carefully maintaining the following three features:
• Diligent nursing care: solicitous, total dedication to the patient, highly regarding his human dignity
• Gratuitous: making the Gospel message our own: "you received without charge, give without charge" (Mt 10, 8).
• Preferably in the homes of the sick: This special and distinctive feature of home nursing prevails in our communities. Nursing in clinics, hospitals or wherever the patient is to be found is not to be excluded and in every case we must always feel impelled by the desire and upright intention of giving preference to those in most need.
Our charitable service shall be carried out in the following ways:
All these forms of nursing shall also be extended to missionary territories. Our apostolic activity is not confined exclusively to the care of our patients but also include the members of their families. As Religious nurses, we value in all its worth the mission entrusted to us by the Church:
• Day and night service, preferably in the patient's own home
• Visiting nursing service
• Clinics and hospitals
• Dispensaries and out-patient clinics
• Homes for chronic and convalescent patients
All these forms of nursing shall also be extended to missionary territories. Our apostolic activity is not confined exclusively to the care of our patients but also include the members of their families.
As Religious nurses, we value in all its worth the mission entrusted to us by the Church:
• Care with love for the sick in all their needs: physical, spiritual and moral.
• Be bearers of God's effective and lofty love for them, making no distinction between social status, race, religion or illness and giving preference only to those most in need of our services. The sick are the visible image of the suffering Christ and it is He we serve in the person of our patient.
• Care for them with diligent merciful concern, understanding and self-giving so that they in turn may be able to discover Jesus Himself in every Servant of Mary, visiting and healing the sick.
• Care for them with humble simplicity and in a spirit of service, as angels of peace and charity, with the generous dedication of one who sees Christ in her patient. It is this mission of love and service to mankind that the Church expects from us.
Because of our mission with the sick, we are called to be…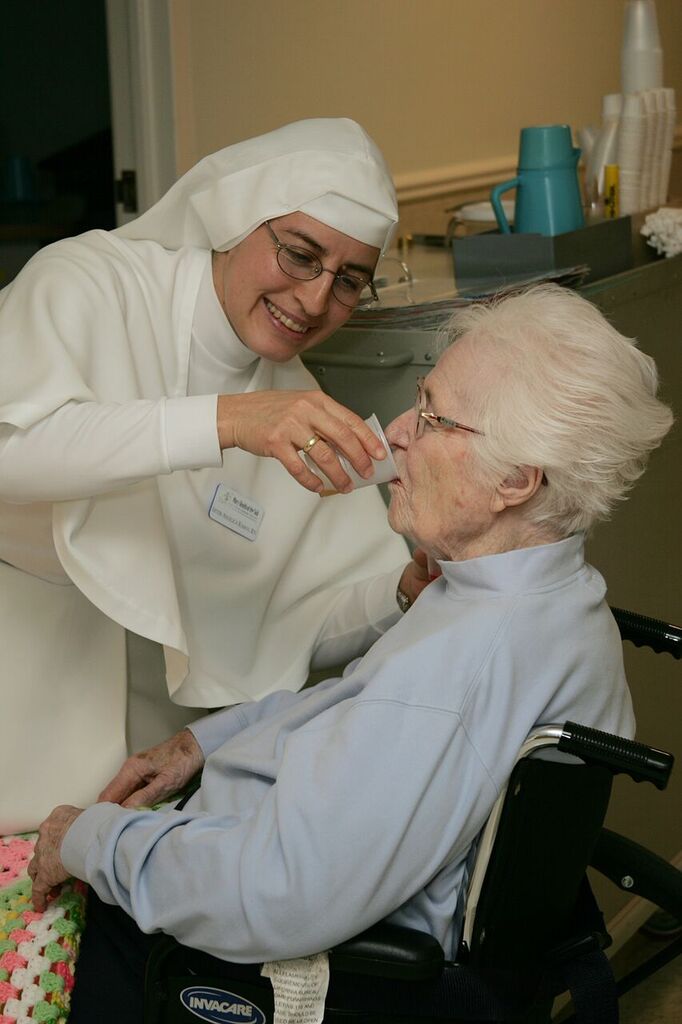 • Contemplative in action: our prayer life must be intense. We must be souls of prayer at the service of the apostolate, in such a way that our apostolate derives its strength from contemplation which in turn is a motivation for the apostolate. The daily celebration of the Eucharist, community life and trust and love for the Virgin Mary are sources of strength for our apostolic mission.
• Be souls of prayer and of an intense interior life, firmly anchored in the theological virtues of faith, hope and charity; given to self-denial, ever willing to offer a constant FIAT of self-giving when the practice of charity demands humble sacrifice of us. In virtue of our christian, and above all religious, vocation by which we are more deeply united to the mystery of Christ and His Church, we shall live as authentic apostles, working tirelessly for the salvation of our brothers in Christ.
• Discover Christ in the face of each patient. We make no distinction between our prayer life and our apostolic life. Going from the chapel to the bedside of the sick does not in any way interrupt our dialogue with Christ; we continue loving Him where and how we find Him, ever alert to the slightest demand He may wish to make of us. In this spirit, the caring of our patient will be made easy and we shall daily experience a renewed enthusiasm in respecting, loving and lavishing upon him all the services he requires.
• Seeking God before all things and only Him, to whom we have totally surrendered ourselves by our religious profession, we shall combine contemplation with apostolic love which is made powerful by a life united to Christ (PC 5). All of our apostolic efforts stem from intimate union with God since without Him we can do nothing worthwhile and effective, and He is the supreme objective of our evangelical plan of life.
• By sharing in the missionary activity of the Church: our Congregation responds fully to its own apostolic vocation.
Today 1,628 Servants of Mary, Ministers to the Sick are dedicated to serving the sick in 115 convents in 22 countries. The Congregation currently has:
• 96 convents dedicated to caring for the sick in their own homes
• 3 convents with centers for chronic patients
• 1 convent dedicated to both home and hospital care
• 9 hospitals
• 6 clinics
Our service of caring for the sick is carried out in various ways such as
• Day and night care in their own home
• Visiting nursing
• Private care in facilities
• Clinics
• Hospitals
• Hospices
• Nursing homes
• Infirmaries
• Health centers
• Centers for AIDS patients