MOTHER AURELIA ARAMBARRI FUENTE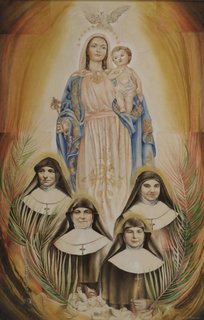 SISTER AURORA LOPEZ GONZALEZ
SISTER DARIA ANDIARENA SAGASETA
SISTER AGUSTINA PEÑA RODRIGUEZ
SERVANTS OF GOD
Martyrs, 1936
MOTHER AURELIA ARAMBARRI FUENTE
Mother Aurelia was born in Vitoria, Álava, Spain on October 23, 1866. She was baptized on the same day in the Parish of Saint Maria of Vitoria (the old Cathedral) and received the name Clementina Francisca. Her parents were fervent Catholics and raised their daughter in the faith.
Sister Aurelia was 20 years old when she entered the Congregation of the Servants of Mary. She was admitted by Mother Soledad Torres Acosta, the Foundress, and also received the Holy Habit from Mother Soledad's hands on November 14, 1886. She made her first profession on December 18, 1887, and was then sent to Puerto Rico where she made her perpetual profession on December 18, 1894
By the time she was 38 years old, she was appointed Superior of the community of Guanajuato, Mexico, then later of Durango and Puebla, Mexico. It was there that she experienced the terrible Mexican Revolution. By August, 1916, she was transferred back to Spain as Superior of the communities of Mataró, Alcoy, Sarriá, and Barbastro. Everywhere she lived and served as Superior, she always showed the same zeal and interest for the good of the Sisters. Extremely prudent, her Sisters could always count on her trustworthy confidentiality.
In October, 1929, the Province of Madrid was established, and she was sent there as Provincial Councilor and Superior of the community of Pozuelo de Alarcón until 1934. By this time, she was suffering from progressive paralysis and was moved to the Infirmary of the Motherhouse in Madrid. For all who cared for her or visited her, she was a model of virtue: she never complained of her sufferings and always showed the same patience and conformity to God's will. Everything was fine for her and she responded with gratitude for any and all services that were done for her.
In whatever circumstance she found herself, although extremely difficult, she would say: "It will be as God wishes. He knows that we are here." She saw everything as coming from God's hand, and in him she completely trusted, repeating over and over: "We belong to God; He will not let anything bad happen to us."
When the Spanish Civil War began in July, 1936, the Motherhouse in Madrid was taken over, and the Sisters had to be dispersed among families that they knew. They had to be extremely watchful and had absolutely no communication with one another. Because of the danger the elderly Sisters faced, it was decided to send Mother Aurelia to the convent in Pozuelo de Alarcón where it was more peaceful; however, the plan of God was very different.
Mother Aurelia and three other Sisters were recognized as religious, and without denying at any time their state as a consecrated women, they were chosen to be martyred. It is very probable that Mother Aurelia died on the night of December 6-7, 1936 in Aravaca (Madrid).
SISTER AURORA LÓPEZ GONZÁLEZ
Sister Aurora was born in San Lorenzo, Madrid, Spain, on May 29, 1850. She was baptized on May 31 and received Justa as her baptismal name.
Her parents, José and Eusebia raised and educated Justa in the Catholic. Justa entered the Congregation as a Postulant on March 20, 1874 in El Escorial and later was transferred to the Novitiate at the Motherhouse in Madrid. She was vested in the Holy Habit on May 14, 1874.
She made her first profession on June 24, 1875 and professed perpetual vows on July 2, 1895 in Madrid. She was appointed as Superior of Arévalo in 1885 and returned to Madrid in 1893. She was also later transferred to and lived in the communities of El Escorial, Salamanca, Alcalá de Henares, Cabeza del Buey, Jaén, Ciudad Real and finally Pozuelo de Alarcón.
She was a contemporary of Mother Soledad, and her life faithfully reflected the simplicity, courage, goodness, and sober spirit of her Foundress. During her long religious life, she showed her love for the Congregation and sacrificed herself in the ministry to the sick; indeed she had great zeal and desire for the salvation of all those with whom she came into contact. She loved to share her experiences with the younger religious and encouraged these Sisters to wait patiently for God's coming into the souls confided to their care.
Having a very energetic and hardworking character, she always gave herself tirelessly to the community in whatever way she could despite her advanced age. The Sisters who lived with her remember her faithfulness to her duty of ringing the rising bell in the morning. She was always the first to rise each day, no matter how early it was, and then she would wake up the Sisters by ringing the bell. She would be the first one in the Chapel and spent much time praying in the presence of the Blessed Sacrament.
She always had plenty of stories which she recounted with much delight and humor and brought much joy and happiness to the Sisters' gatherings.
She unconditionally and generously accepted whatever the Lord had planned for her in her last months of life. Having to take off the Holy Habit caused bitter tears to run down her aging face which had spent long nights of dedicated service and vigilance watching over her sick brothers and sisters.
When the Spanish Civil War began in July, 1936, the Motherhouse in Madrid was taken over, and the Sisters had to be dispersed among families that they knew. They had to be extremely watchful and had absolutely no communication with one another.
Sister Aurora and three other Servants of Mary were recognized as religious and were chosen to be martyred. It is very probable that Sister Aurora died on the night of December 6-7, 1936 in Aravaca (Madrid).
SISTER DARÍA ANDIARENA SAGASETA
Sister Daría was born in Donamaría, Navarre, Spain, on April 5, 1879 and was baptized the following day in the parish of Our Lady of the Assumption. She received as her baptismal names Josefa Engracia, but she was informally known as Graciana.
Her parents, Nicolás and Francisca, taught their daughter the Catholic Faith and Christian values which were the center of their life.
At 23 years of age, Graciana entered the Congregation in the convent in San Sebastián on November 9, 1902, and a few days later moved to the Novitiate in Madrid. After professing her first vows on May 4, 1905, she was sent to the convent in Zaragoza where she carried out the apostolate of caring for the sick with much dedication for the next five years.
In March of 1910, she was sent to the convent in Ciudad Real for a brief amount of time. She finally returned to Madrid and there professed her perpetual vows on May 5, 1913.
It was not long before she became sick from a gastric ulcer. This condition made Sister Daría's humility manifest as it seemed to her that all the alleviations, attention, and care given to her were too much for her.
In 1922, she was sent to the Novitiate of the Motherhouse with the duty of Auxiliary Sister to the Novice Director for the Coadjutor Sisters. Her charity toward the Novices was immeasurable, for she acted like a mother to them and sacrificed herself when they needed her. She was a true role model for the young Sisters who knew her. She remained in this charge for eight years, after which she was sent as Councilor and Secretary for the community in Pozuelo de Alarcón. Her admirable virtue was also visible in this community, and all were edified by her pleasant and religious behavior.
The Sisters saw the surrender of her life not as something casual and ordinary, but as the culmination and climax of the life that she had lived out until then. They frequently heard her say: "I desire the martyrdom of daily sacrifice and if God so wills it, also that of death, to die as a martyr for him."
In 1936 she was detained by the revolutionaries along with Mother Aurelia and Sister Aurora. According to the family that took in Sister Daría, when she was the object of insults and humiliations because they suspected that they were Religious, she affirmed: "We are truly religious; you can do what you want to us, but I beg you not to do any harm to this family. When they saw that we did not have a house, they took us into their own home out of charity and authorized by the Committee of Pozuelo.
Sister Daría was chosen to be martyred which very likely happened during the night of December 6-7 in Arvaca (Madrid).
SISTER AGUSTINA PEÑA RODRÍGUEZ
Sister Agustina was born in Ruanales, Cantabria on March 23, 1900. Her parents, Melitón and Agustina, with Christian love and zeal made sure that their daughter was brought up in the Catholic Faith. She was baptized two days later on March 25 in the Parish of the Triumph of the Holy Cross and received the name Mary Assumption.
Before too long, she experienced the pain of separation and hard work. Her mother died when she was still very young, and over time, an austere, laborious spirit along with attentiveness to others' needs was forged in her.
God had indeed chosen and set her apart for himself alone. On December 14, 1924, she entered the Congregation as a Postulant in Tudela and eventually went on to the Novitiate in Madrid. She received the habit of a Coadjutor Sister on July 4, 1925 and her name was changed to Agustina in remembrance of her mother.
Those who lived with her during her Novitiate, describe her as "a person of uncommon virtue, of noble sentiments, and, though without formal education, very intelligent".
On July 5, 1927, in Madrid, she professed her first vows and four days later was sent to the community in Pozuelo de Alarcón. She was to prove to be an immense support to the elderly and sick Sisters. She was of course dedicated to the housekeeping duties, and especially to the upkeep of the garden. She was always attentive and ready to serve the Sisters in whatever way they needed her.
As a woman of profound devotion and prayer, those who knew her, say that for Sister Agustina, everything became as a Chapel, and when she did have some spare time, she always would go before the Lord in the Blessed Sacrament to remain with him in profound recollection and prayer.
Her great charity was made manifest when Mother Aurelia, already incapacitated, was commended to her daily care. She considered this to be a sacred duty. She would attend to Mother's needs even at night, getting up to see her each time Mother called. Never once did anyone hear a complaint from Sister Agustina.
In 1936 when the Sisters had to abandon the convent in Pozuelo de Alarcon, she was given refuge with three other Sisters by the same family, but the soldiers forced her to be separated from them. She joined another family that was fleeing to Rozas, and it was there that she was accused of being a Religious after having been seen praying. Her life of 36 years was crowned with martyrdom on December 5, 1936.
PRAYER TO OBTAIN THE GLORIFICATION OF THE SERVANTS OF GOD
We bless you, Father, because in each period of history, you raise up in the Church witnesses of the faith, who cause your fidelity and love for mankind to shine forth.
You chose your Servants, Aurelia, Aurora, Daría and Agustina, through their lives of service to the sick, the suffering and their families, to be a reflection of your love that never abandons mankind.
You made their weakness strong, and for love of you they gave witness of their faith, even to the shedding of their blood.
We ask you to glorify your Servants and to grant us the graces we ask for through their intercession if this is for your greater honor and glory. Amen.
In conformity with the decrees of Pope Urban VIII, we declare that we do not intend in any way to precede the judgment of the Church's authority. This prayer is not intended for public worship.